WPS WPA TESTER is an application that helps you to check the Vulnerability Wireless Network (Wi-Fi). With the help of this tool, you can hack WPS enables Broadband connection or Wi-Fi. If you can able to connect such a wireless network that means that the network is vulnerable and it is easy to hack or crack its Wi-Fi Password. It is only possible if that network works on WPS security, not on WPA or WPA2.
How to use WPS WPA TESTER on Android 9 and Android 10?
If you have Android 9 or Android 10 based on any Android smartphone then you can't directly use this WPS WPA TESTER app to hack or crack the password of WPS enable wireless network (Wi-Fi) because of a security issue. But if you have any lower version of Android like Android 8, 7, or 6, etc. then simply download this app from our website Here.
Here you will get to know about how you can use this app on Android 9 or Android 10 based smartphones. So if you have an unrooted android smartphone that runs on Android version 9 or 10 then you can't connect with WPS enabled network, without Root it is not possible but if you use its desktop version then you can do it without root. Once your device gets Root your smartphone warranty is ended so to be the safe side I will not suggest you root your android device you can try its desktop version to connect with a WPS-enabled wireless network.
How to use the WPS WPA TESTER Desktop version with Android 9 and 10 based smartphones?
There are some steps that you have to follow to use WPS WPA TESTER on your Android 9 or Android 10 based smartphone.
Step 1
First of all, you have to download and install DotNet v3.1 on your Windows PC. Click here to download the DotNet v3.1 setup for Desktop.
Step 2
Now you have to install the WPS WPA Tester app on your Android 9 or Android 10 based smartphone from our website (link given below).
Step 3
Now you have to download WPS WPA TESTER App for your Desktop. Just click here or here to download WPS WPA TESTER app for your Desktop. It will be a zip file so you have to unzip its file to access this app on your desktop.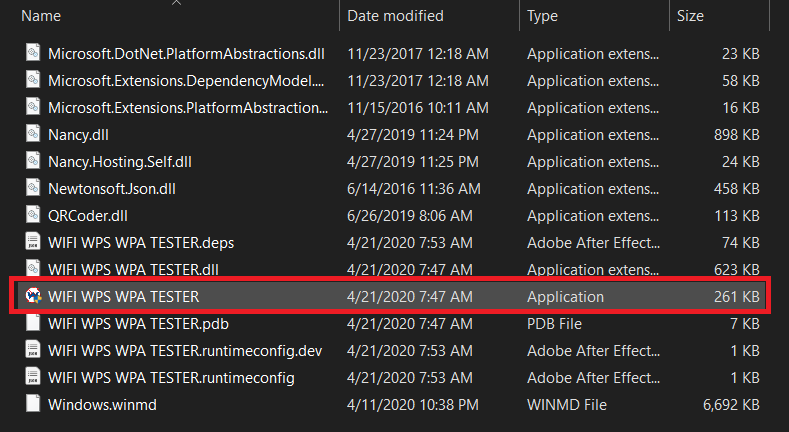 Step 4
Now Open your Smartphone and Open WPS WPA TESTER App then tap on the "Scan" option to scan the Wi-Fi network nearby you and then you will see some wifi connection if it is available. Here you will see 3 colors of the Wi-Fi network Red, Yellow, and Green.
Red means you can't hack or crack the password of this network using the WPS WPA TESTER App even if you have its premium version.
Yellow means it might chance that it can be crack using this app if its pins match with that network to connect with it.
And the Green means you can very easily crack that type of Wi-Fi network Password using this App.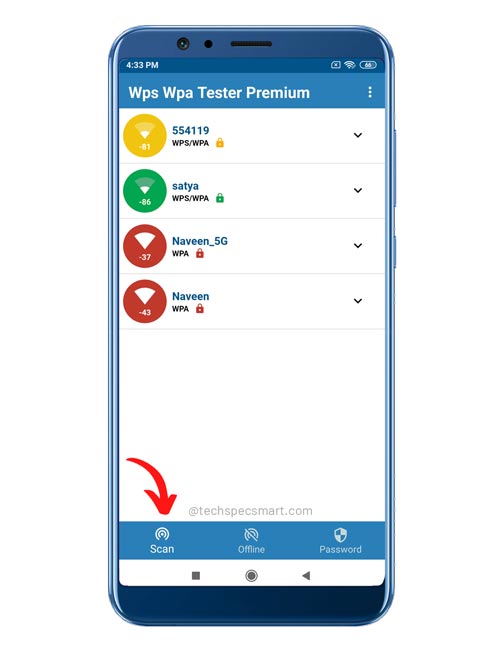 Step 5
Select the Green signal Wi-Fi network if it is available or select Yellow to check if its network is vulnerable then you can connect easily and then you have to select the option which is "TRY TO CONNECT FROM DESKTOP" (here I am using the premium version of WPS WPA TESTER app you can do the same with its free version). If you will use its free version then you will get to see this option "TRY TO CONNECT FROM DESKTOP AVOID ISSUE WITH ANDROID 9 AND 10" just click on it.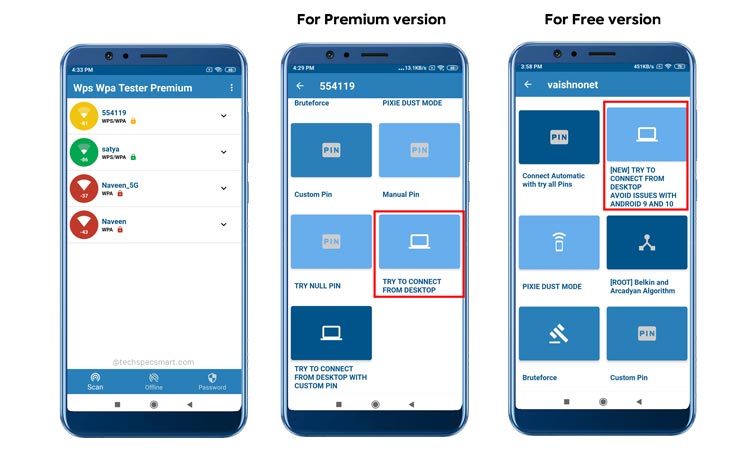 Step 6
If you will use its free version then you have to "watch video ads to unlock this feature" [step 2 in the below image] and then click on the "START AUTOMATICALLY" option on your phone but before clicking on this option you have to connect your android phone with your windows PC using hotspot (once you select a wi-fi signal to crack its password then you can turn off your wifi and open hotspot to connect with your laptop).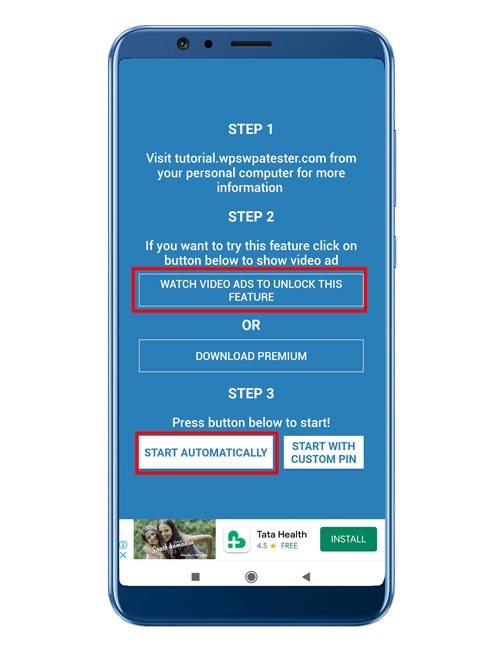 Step 7
Once your Android phone will connect with your Desktop then open the Desktop version of the WPS WPA Tester app and click ok on your phone the desktop version of the WPS WPA Tester will automatically scan your phone and connect with it but make your phone and your desktop connect over your mobile's hotspot.


After that, on your desktop, the Pin matching process will start and if any pin will match successfully with that wireless network then you will get to see its Wi-Fi password and the QR Code, scan it with your phone to connect with that network.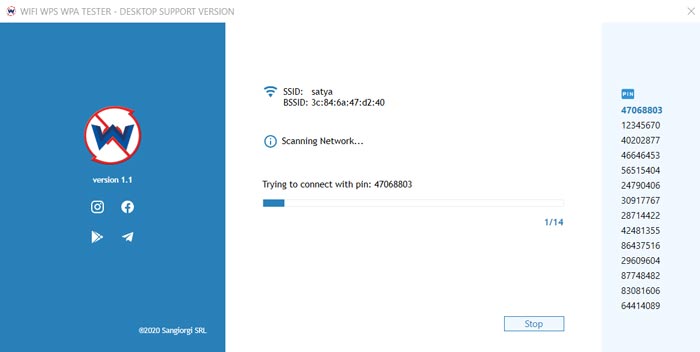 This is the final result: The first result is failed to connect and the second is successfully connected and you can see the Password of that network and QR Code also. QR code is the same as the Password just scan it to connect to that wifi network.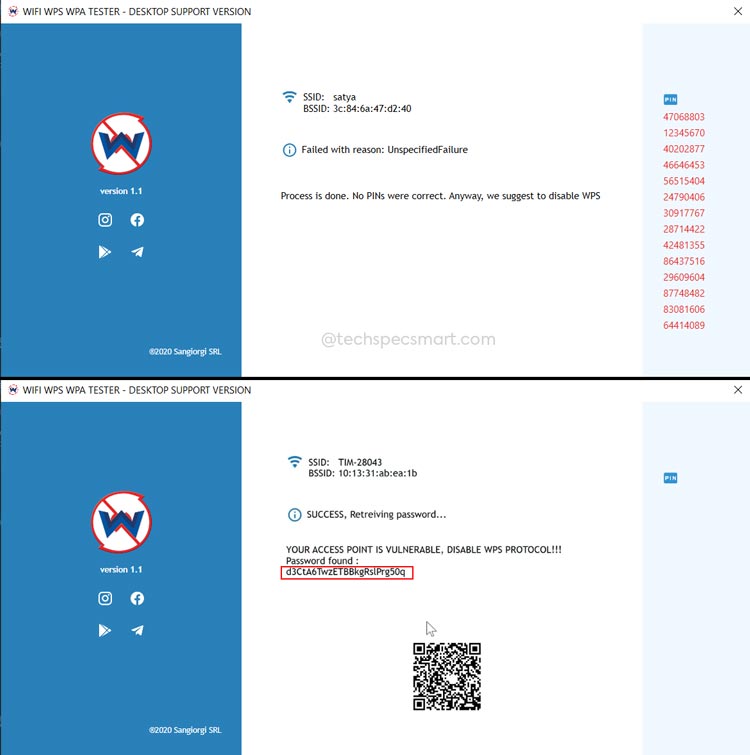 There are three types of errors that you can see when you use WPS WPA TESTER on the Desktop:
Invalid Credential, means that the PIN was incorrect
Timeout, means that the Access Point did not give you a response
Unexpected error, means that the Access Point is about to lock its WPS
Note:
WPS WPA Tester App is to check vulnerability of WPS Secured WiFi Network Connection.
You can only connect with WPS Enabled wireless Network not WPA/ WPA 2/ WPA 3 Secured Devices.